Top 10 Places to Live in Canary Wharf
Moving to Canary Wharf
Canary Wharf is a major business district in London. Home to over 27,000 people, it has the highest density of population in Europe. The area has been carefully planned and developed with a focus on high-rise residential blocks backed by offices for financial companies.
Canary Wharf's central location next to the River Thames allows commuters from across London easy access via public transport links such as the Docklands Light Railway and Jubilee Line extension. In recent years there has been an increase in demand for rental property within this fast-growing community due to its convenience and proximity to the city.
Within the fourth quarter of the year 2020, rental property viewings within the area jumped 124% compared to the same time in 2019 and modern occupancies were up by 58%. The rental market in the Canary Wharfs is now incredibly lucrative and has been rapidly evolving as price tags continue to rise.
At Ten Square, renters can find their dream home for £2,000 per month with an advertised rental yield of 5% You can also find many flats to rent in canary wharf. Buyers will find that the prices of properties in Canary Wharf often depend on the size and location, however, it is typical for a small studio to cost around £300,000. Investors are willing to pay more for the area's properties as their prices will increase at a stable rate.
The average returns now are about 5%, which means an investor would get a 50% return each year.
Where to live in Canary Wharf?
There are number of different neighbourhoods in which to live at Canary Wharf, depending on your taste for modern or older architecture. For those who want the traditional British feel with easy access but quieter lifestyle options there is South Quay's glass skyscrapers while converted warehouses offer more space for families. Here are the places to consider if you want to live in Canary Wharf.
1. 10 Park Drive, E14
Ten Park Drive is a sought-after development by the Canary Wharf Group, with its proximity to all modes of transportation and quick access to Jubilee line or DLR service. Residents here also consistently praise this property's management team for their friendliness, reliability, and attention detail. A quick commute takes you to the city center in 25 minutes. Local amenities include a Waitrose, a gastropub, and a gym.
2. One Park Drive, E14
Designed by world-renowned architects Wilkinson Eyre, One Park Drive is considered one of the most beautiful buildings around Canary Wharf – a reason why it's a favourite among many renters who prefer a luxury living in its modern, stylish interiors. It is also located just next to the River Thames and has quick access to the West India Dock and Canary Wharf Square.
3. 10 George Street, E14
This is another apartment building that stands out due to its impressive modern architecture and sleek, clean lines. One of the bonuses of living here is that residents can enjoy a private concierge who will take care of any requests they may have. Another great location for this property is its proximity to The O2 Arena.
4. Marina Point, 5 Westferry Circus, E14
This is another apartment that will provide luxury living for Canary Wharf residents. The residences are stylish and spacious with modern appliances in the kitchens where you can relax after work. The building stands out due to its prominent East London skyline which provides spectacular views of the city. You can also use the communal facilities to keep fit or relax with friends.
5. South Quay Plaza, E14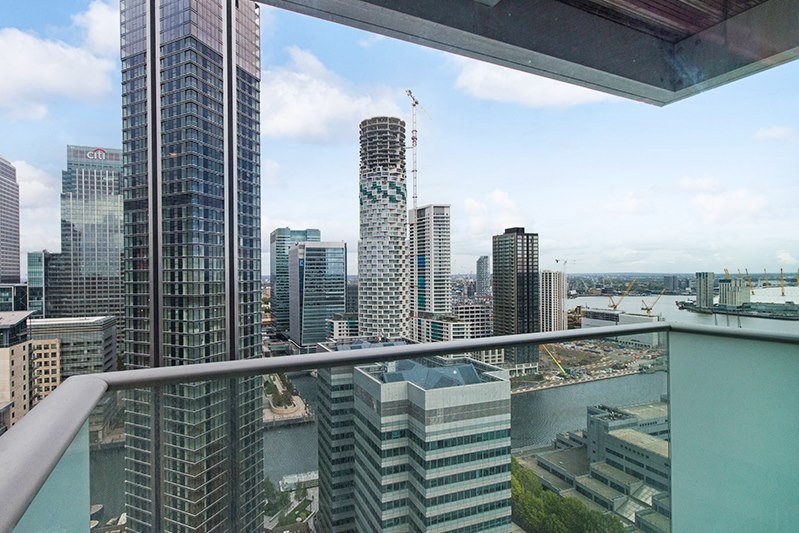 With its iconic architecture and spectacular views of Canary Wharf and the Thames, South Quay Plaza is in the heart of London's Docklands. This well-equipped serviced apartment complex offers fabulous 1, 2 and 3 bedroom apartments with contemporary kitchens, spacious living/dining areas and bright bedrooms. Its luxury amenities include a concierge service, rooftop swimming pool, sauna and gymnasium.
6. Wardian, London, E14
For those looking for a more spacious home with the option of renting out their basement then Wardian on London City Island is ideal. This stylish new development offers bright, contemporary designed 2 and 3-bedroom apartments with smart kitchens and high-quality fixtures and fittings. It also benefits from 24-hour concierge services as well as a private gym and underground car park.
7. Dollar Bay, E14
Offering a unique opportunity to own a brand new 2- or 3-bedroom apartment in London's most modern and stylish residential development. The open-plan accommodation is finished to the highest standard with fully integrated Hi-Fi system, luxury bathrooms and hi-tech kitchen appliances. The outdoor terrace offers panoramic views over Canary Wharf while the 24-hour concierge service ensures residents get the highest level of service.
8. Water Street , E14
A luxury riverside development built around the original Canary Wharf Pier. The property offers 185 stunning one, two and three bedroom homes all with direct views of the River Thames. With great transport links on your doorstep and just minutes from Canada Square you will find an abundance of shops, restaurant and bars at your fingertips.
9. The West Heron, E14
The West Heron is a 23-storey residential high-rise proudly standing in the heart of Canary Wharf. Boasting fully equipped kitchens and bathrooms fitted with stylish finishes this development is the perfect place to call home. With onsite services from Aspect Support Services, you can rest assured that you are fully looked after.
10. Pierhead Place , E14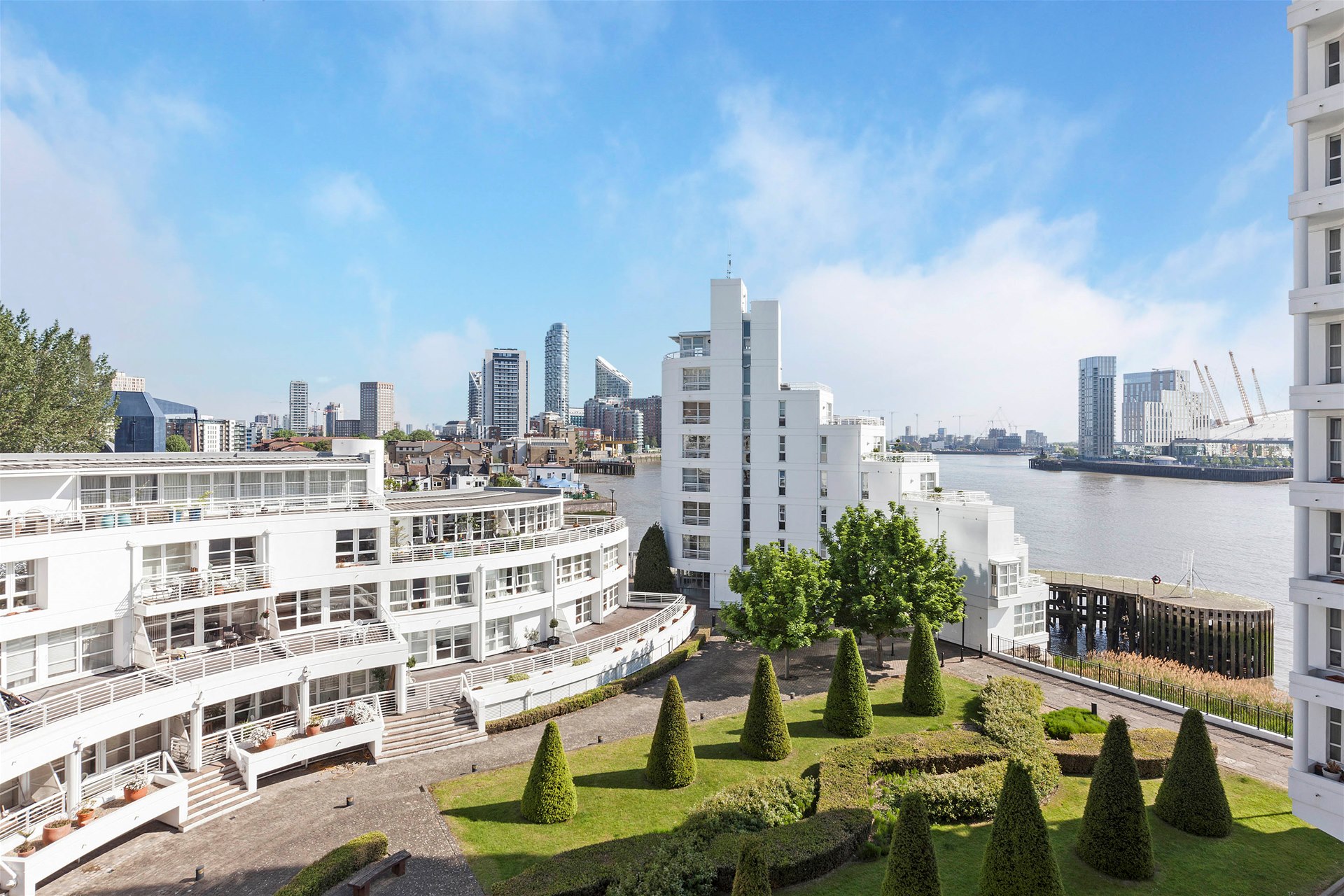 If you want to be at the heart of it all then Pierhead Place is for you. This development is located next to Canary Wharf and has fantastic transport links across the area. The property offers a number of studio and one bedroom apartments all with fantastic views of the River Thames.
The Top Things to See in Canary Wharf, London
Gaze up at One Canada Square
One Canada Square is the most famous building at Canary Wharf, and the most iconic. This twisted tower is the most famous of several towers designed by Cesar Pelli, who has extensive experience designing buildings around the world.
The openness and height make it an even more impressive building to see up close, as people who visit can walk around on all four sides without stepping foot into any security bounds or restricted areas. The cylindrical-shaped four skyscraper estate is among several London places that have been given a grade II listing for their historic properties.
The place is a great location for offices, with retail units on the lower ground floor. It has a good mix of shopping and entertainment, with cinemas too. One popular activity is going on a boat ride along the River Thames – it's quite scenic this close to the city center. There are some small parks here which offer benches and seats where you can relax or meet your friends for lunch. It also has an onsite fitness center which you can visit for a small fee.
Visit the Museum of London Docklands
For those who want to get away from the hustle and bustles of London, this museum offers a hidden treasure. From the history of finance to trade, this museum has all of it. The architecture is stunning and provides a different view of London that many tourists do not get to experience.
The Museum of London Docklands was established in 1987 due to the redevelopment of West India Docks on the Isle of Dogs. It is located just by Canary Wharf in East London by the River Thames. It is on the south side of West India Quay between Canary Wharf Pierhead and Hertsmere Road/Docklands Light Railway (DLR) Poplar Station.
The Museum of London is the perfect location for filming productions. Located in an exciting part of town, it has countless galleries with immersive exhibits that cover centuries' worth of London history from prehistoric times up until today's present-day events; there are also creative spaces equipped to host any type of production you can think about! If this sounds like a place your project needs some time on the screen, then contact our team right away so we may book them into one or more days at no cost!
The Museum of London is open 7 days a week, with late-night openings until 9 pm on Thursdays and Fridays!
Grab a pint after a Meantime Brewery Tour
Meantime Brewing is an award-winning craft brewery in Greenwich, London, England. The brewery was established by Alan Bridger and Alastair Hook in 2000 after they had worked at other breweries like Youngs, Coors, and The Brewers' Company.  Since then, the company has grown into an international brand that exports over 90% of their products to over 30 countries worldwide. Their beers are currently sold in shops across Europe, North America, Asia Pacific, Australia, New Zealand, and the United Kingdom.
Members of the public can go inside on various behind-the-scenes tour with tutored tastings every weekdays and guided tours every Saturday afternoon. As you walk in, the first thing that will catch your attention are the 6 massive stainless-steel fermenters with glass observation panels at the side.  These are the vessels where the yeasts are added into to start fermentation, which is when yeast consumes sugar and converts it into alcohol. To ensure that the quality of beers is maintained, Meantime employed a full-time microbiologist to monitor the fermentation process.
The tour also includes passing through the bottling and labelling rooms where 31,000 bottles are filled with beer every day. On your way out, you will be able to sample one of the three beers brewed throughout several centuries in Kent at their pub, The Old Brewery.
Discover the Cross-rail Place Roof Garden
Crossrail Place Roof Garden is a greenery oasis in central London. In the West End, the streets are often congested with busy people who need a break from their usual hustle and bustle. This garden is situated on top of a shopping center so an important demographic it attracts are families looking for a day adventure downtown. The garden has its very own café, called "The Garden Table", which is open to the public. Here you will find flowers, herbs, and other plants. It provides a peaceful getaway from shopping or work stress.
You might ask yourself why this garden is free for anyone who wants to visit. The answer is simple: it's because of Crossrail Place Roof Garden's affiliation with the ExtraFood charity. The garden is run by volunteers and all the produce grown within the space will be donated to those in need at food banks throughout London.
The Crossrail Place Roof Garden provides a peaceful getaway for everyone. Definitely worth a visit for those looking to spend a relaxing time with nature!
Haggle for fish at Billingsgate Market
People of all backgrounds visit Billingsgate Market to haggle for the best deals on fresh fish. Not only is it an exciting experience, but there are also some fascinating origins behind the market itself.
Famed since Roman times for its supply of exceptionally fresh fish, Billingsgate Market was moved to its current location in London's East End in 1875. A bustling hub of activity each morning, locals and tourists alike come here to buy the freshest catch available at reasonable prices. Though rumors circulate that this market has been forced out of business by large supermarket chains, it appears that this historic market is thriving more than ever before as new restaurants emerge on every corner.
So, if you're looking for interesting way to spend your morning in London, head down to Billingsgate Market in Canary Wharf sit back and watch the hustle and bustle of the market unfold before your eyes, this is a unique experience not to be missed!
Glide around Ice Rink Canary Wharf
Canary Wharf Ice Rink (CWIR) is a winter wonderland of twinkling fairy lights and music, with people skating around in circles like little frozen water robots. It's pretty much exactly what you'd hope an ice rink would be like – except better because it has a tropical-feeling holiday resort vibe to it (and no queues for the bar).
The CWIR was set up by Brent Hoberman CBE, co-founder of lastminute.com and Founder of First minute capital – who wanted to bring something 'magical' this Christmas to London families. The CWIR
The rink is located between two piers at the Canary Wharf Jubilee Line station (the exit directly opposite). Tickets cost for children is £12 and £17.95 for teens and adults 13-year-old above. Skate hire is an additional £5 (you'll need these!) It will be open for 18 weeks this year, starting on Saturday, October 23rd, 2021. To make up for lost time, this year's opening season has been extended to 18 weeks! As a result, through the last week of February 2022, you'll be able to reserve ice skating in front of the famed One Canada Square.
If you're looking for a fun activity that will have you walking around more than skating, then look no further! The perfect photo opportunities, low lighting and lack of windows mean you won't even feel like you're inside – just skimming through the clouds.
Marvel at towering trees in Jubilee Park
As you leave the hustle and bustle of Nottingham city behind, a tranquil walk along old railroad tracks leads to a peaceful oasis within Jubilee Park.
While the towering trees are the main attraction, the glade also plays host to a number of other attractions including joggers, football matches and picnics. It has a small copse peppered with wildflowers and towering trees that proudly display their autumnal coats. This is arguably the most beautiful part of this treasured public space
There's plenty of space for everyone in this little sanctuary within Jubilee Park – so why not pay it a visit?
Ponder the Traffic Light Tree
One of the most unusual sculptures in London is located on a traffic roundabout near Billingsgate Market, close to the Canary Wharf Financial District.  Called the "Traffic Light Tree", it is a large metal structure designed by British artist Pierre Vivant. The sculpture is made up of three sets of traffic lights, each set consisting of one red light and two green lights. The extensions extending outwards are the same length so that when they are in their neutral positions the sets form a triangle around the pole.
The lights at ground level face away from the roundabout which is why they are red; the lights at level with you face you squarely which is why they are green. Extremely simple in design (one might even say childish), it invites onlookers to contemplate their positioning and how it is that they can give off completely different signals depending on how you look at them, just like real traffic lights.
Whether your day job involves sitting in an office somewhere in Canary Wharf or you're just visiting London for a break, this surreal installation provides food for thought when waiting at the traffic lights outside Billingsgate Market.