Cheapest Places To Live In UK
It's difficult to choose when or if you should move homes right now because of the pandemic. But as UK housing markets start going back to normal, more people are thinking about changing up their living situation. The main thing that stops people from moving is affordability. It's no secret that prices in the UK have been rising steadily for years, and finding a place that you can afford on your budget can be tough.
In this article, we're going to look at the cheapest places to live in the UK. We'll be looking at average house prices and cost of living in each location to see where you can get the most bang for your buck.
So, without further ado, let's take a look at the cheapest places to live in the UK.
Price to Earnings' ratio (PE)
The cost of living in an area is not only determined by its ongoing expenses, but also the initial price tag of housing. The 'Price to Earnings' ratio (PE) compares the average cost of property to the earnings obtained annually in that location; if a desired house is more manageable relative your annual salary, then this eases up on the majorcosts associated with relocating. Consequently, indicators such as PE give better insight into reality rather than heavy headline numbers.
The price-to-earnings (PE) ratio is used to calculate the average cost of a property in an area relative to the amount people living there earn in one year. A PE ratio of 5 would mean that on average, properties cost five times what residents make yearly. The lower the better from an affordability perspective.
The Most Cheapest Places To Live In UK for Students and Families
1. Durham, North East England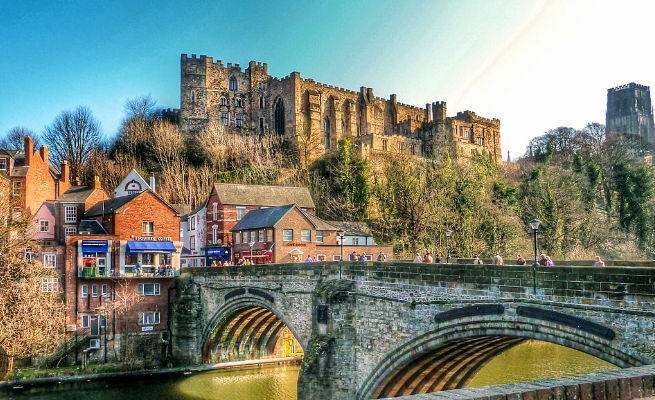 Durham is located in northeast England, south of Newcastle upon Tyne. The city gets its name from the River Wear that loops around Durham Cathedral and Norman Castle. North of the castle you'll find Crook Hall, a 13th-century building that's home to beautiful gardens and a maze. South of the river lies Durham University which offers stunning views of woodland and tropical plants in their Botanic Garden, as well as an abundance of Asian, Egyptian, and Middle Eastern artefacts on display in their Oriental Museum.
Cost of Living:
Durham is a popular, one of the cheapest places to live in the UK., especially for students. Durham has many good law schools and universities, and living costs are reasonable. The average rent of a 1BHK apartment in in County Durham is £650 per month, while outside the city it is £360 per month. Basic utility costs around £235 per month, and the monthly travel pass is available at £55.
Average House Price:
The latest data from the government department reveals that in August 2022 the average property price in County Durham reached £130,413. This was up from £126,808 in July, representing over a 2.8 per cent increase..
2. Belfast, Capital of Northern Ireland
Belfast is the capital of Northern Ireland, and it was also where the RMS Titanic was built. The city has since renovated its dockyards and created the Titanic Quarter, which includes a museum dedicated to the ship (Titanic Belfast) as well as the Harland & Wolff Drawing Offices and Titanic Slipways. These days, the Slipways host open-air concerts.
Cost of Living:
The average cost of living in Belfast in Northern Ireland is quite affordable, with rent for a 1BHK apartment in the city costing around £495, and outside the city, it is £325. Basic utilities cost about £120 per month, and the monthly travel pass is available for £50.
Average House Price:
The average property price in Belfast is currently £235,560. This is a decrease of 1.7% from the previous year. However, prices are still up by 4.1% when compared to two years ago.
3. Leicester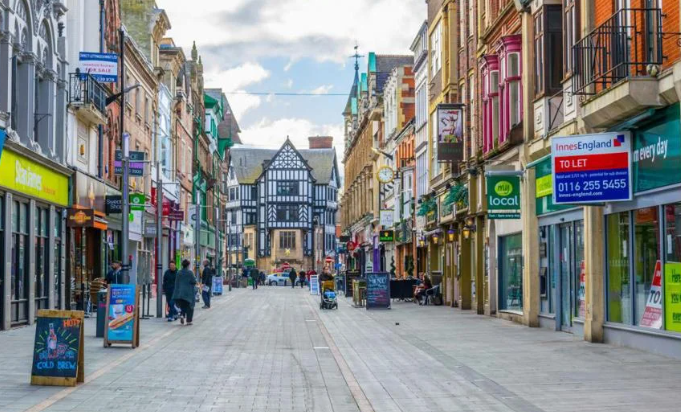 If you're looking for a city rich in history and culture, Leicester is the perfect place for you! With great attractions, restaurants, and nightlife, there's something here for everyone to enjoy. Leicester is one of the cheapest places to live in the UK you need to check out!
Cost of Living:
A single person in Leicester, on average, spends about £600 per month – not including rent and course fees. The average rent for a one-bedroom flat in Leicester is £475, and the cost of utilities is approximately £100. A monthly travel pass costs £50.
Average House Price:
Leicester's property market has seen healthy growth in recent years, with the average property price rising by 5.2% to £216,946
4. Stirling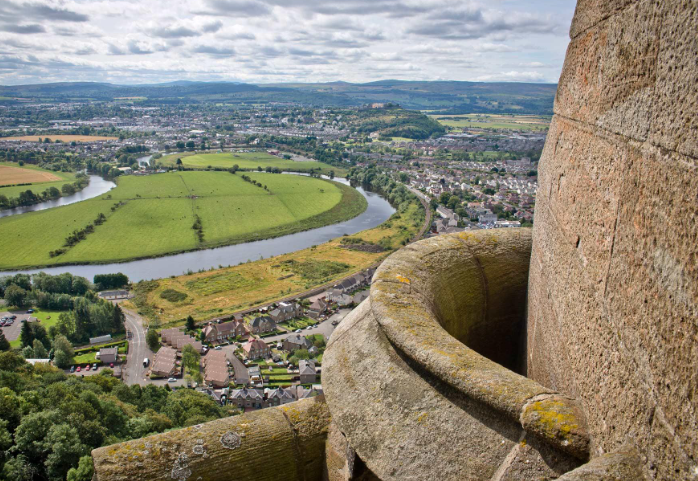 Stirling is a city located in central Scotland and one of the cheapest places to live in the UK. It is 26 miles North East of Glasgow and 37 miles North West of Edinburgh.
Stirling is an upbeat city that provides all the amenities of a modern metropolis, but with a hometown feel. Not only is it one of the most affordable UK cities (Halifax 'UK's Most Affordable City in 2021), it's also been voted as one of the happiest (Rightmove Happy at Home Index 2021).
Cost of Living:
Total cost of living in Stirling single person in Stirling, on average, spends about £700 per month – not including rent and course fees. The average rent for a one-bedroom flat in Stirling is £495, and the cost of utilities is approximately £105. A monthly travel pass costs £50.Average House Price: The current average house price
Average House Price:
The average property price Stirling has been £208810 over the last year.
5. Lancaster
There's plenty of historical value to explore in Lancaster, England. The ancient furniture and 19th-century prison cells located in Lancaster Castle offer great views of the River Lune.
Additionally, the city museum displays many interesting facts about Lancaster's army regiment inside a grand Georgian building.erphilly
Caerphilly is a large town in South Wales. The town is located within the Caerphilly County Borough, and it is the largest town in the borough.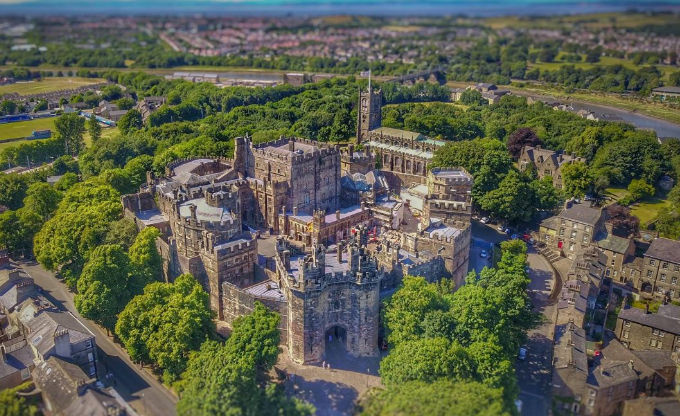 Cost of Living:
If you're looking for an affordable places to live in the UK, Lancaster is your best bet. With average monthly rent being only around £567 in the town and £440 outside of the city—Utility bills costing an approximate £172—Lancaster has got you covered.
And if that weren't enough, local transportation inside of Lancaster is also cheap! There's a mere £80 monthly pass to travel throughout the entire city.
Lancaster offers affordable student housing, as well as local restaurants and markets that won't break the bank.
Average House Price:
The average overall price of properties in Lancaster during the past year was £194,853. Most sales transactions were for terraced houses.
6. Cardiff
Cardiff is both the capital and largest city located in Wales. The city spans a total area of approximately thirty-two square miles and has a population of over two hundred ninety thousand people, making it the eleventh-largest populated municipality within the United Kingdom.
Cost of Living:
Cardiff is one of the cheapest places to live in the UK. A 1 bedroom apartment goes for about £663 inside the city, and only £504 outside. Your typical utilities bill will come up to around £202 each month, but costs for things like sports entertainment and transportation are all fairly low.
For example, there's a monthly pass that'll set you back just £53 pounds if you want to travel within Cardiff itself.
Aberdare hall and the great hall in Cardiff are popular among students because many lectures, freshers' fayres, exhibitions take place there. Furthermore, Cardiff high street is famous for being a safe place to shop by tourists and UK residents alike.
Average House Price:
The average property prices for every postcode sector from October 2021 – September 2022. The most reasonably priced area was 'CF43 3' with an average cost of £82.3k, while the most expensive location was 'CF64 3', £559,000.
7. Newcastle
Newcastle upon Tyne is a university city located in North East England near the River Tyne. It was once known for its shipbuilding and manufacturing during the Industrial Revolution, but it has since become a center of business, arts and sciences. Gateshead Millennium Bridge, which connects the two cities, is noted for its tilting aperture and spans across the Tyne river.
Cost of living:
Newcastle is affordable place to live with great healthcare. A one-bedroom apartment costs an average of £650 in the city and £474 outside it. Your primary utility bill will run about £130 per month on average. You'll find restaurants, entertainment, and gyms at reasonable prices too.
Average House Price:
Last year, the average price of a property in Newcastle Upon Tyne was £202,247. The majority of these properties were terraced houses, which sold for an average price of £176,840. Semi-detached homes sold for an overall average price of £197,176 while flats went for £122,983 on average.
8. Coventry
Coventry is a beautiful city located in central England. Its most notable landmark is the majestic Coventry Cathedral, which sadly was left in ruins after being bombed during WWII. However, a 20th-century replacement now stands beside it, and features abstract stained glass.
The Herbert Art Gallery & Museum houses an impressive collection of paintings of local heroine Lady Godiva–and if you're lucky enough to visit, you may even catch a glimpse of the statue erected in her honor.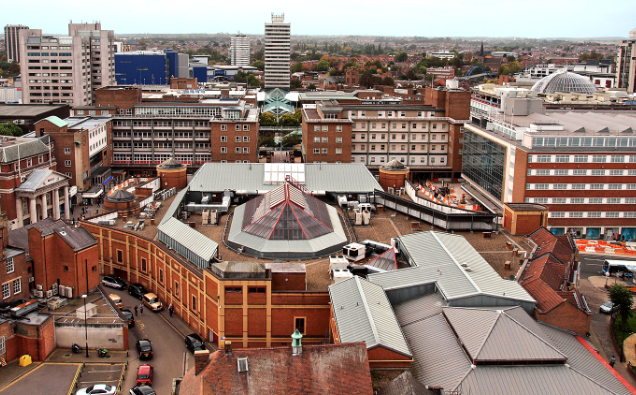 Cost of Living:
Renting a one-bedroom apartment in Coventry is cheaper than renting in other cities, with the average cost being £655 per month for an apartment in town and £530 for an apartment outside of town. The basic utility bill costs around £181 per month. Local markets are also cheap, and transportation costs are affordable, with a monthly travel pass costing around £51 inside the city. Students can also find safe and affordable housing at the Priory Hall dormitory.
Average House Price:
The average price of a property in Coventry last year was £237,130.
9. Warwick
The picturesque town of Warwick has long been a favourite among families and commuters seeking to escape the city. Despite its many years, revolutions and even a fire, Warwick has managed to retain much of its original charm.
The town is full of beautiful Victorian and Georgian homes, as well as a few large estates on Emscote Road towards Leamington.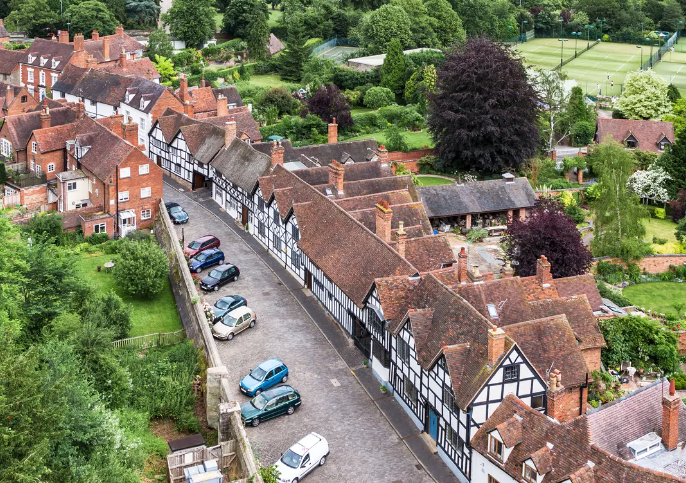 Cost of Living:
Warwick is cheaper to live in than most other cities. A 1 BHK apartment costs about £767 in the city and £658 outside the city. The monthly utility bill is only £134 on average, making it very affordable city for families or individuals. Additionally, sports, leisure, and fitness clubs are all reasonably priced here as well.
Not only is it the least expensive place to live in the UK, but groceries and transportation are also affordable. For instance, the monthly travel pass costs around £125 inside the city.
Average House Price:
The average home value in Warwick is £404,374; however, paid prices are actually lower at an average of just £376,168. For a detached home, you can expect to pay around £489,335 on average.
If you're interested in a terraced house instead, those cost an average of £315,556 while apartments go for about £190 903.
In Warwick, the average property price is around £251,000, which is higher than most places in the UK. Over the last 12 months alone, prices have risen by 9% and in the past 5 years they've increased 16%.
10. Lincoln
Lincoln is a historic city and one of the cheapest places to live located in the English East Midlands. The beautiful Lincoln Cathedral, with its Wren-designed library full of early printed books, is one of the main attractions. Other notable landmarks include Lincoln Castle, home to a Victorian prison and copy of the Magna Carta.
Lincoln is the perfect place for those who love a mix of old and new. The city centre and historic Cathedral Quarter offer an array of activities, attractions, and features that make Lincoln a great place to live in the UK .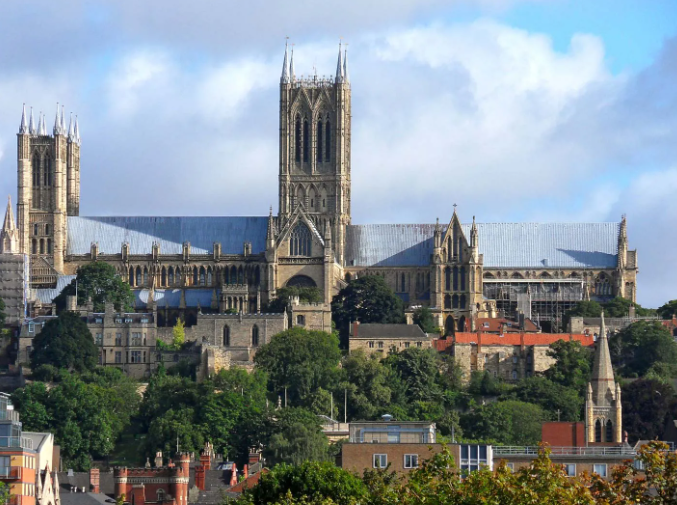 Cost of Living:
Living in Lincoln is one of affordable places to live, especially when compared to other places in the United Kingdom. The average 1 BHK apartment on Foster Street costs £616 per month, but it drops to £471 if you live outside of the city. Essential utilities would cost about £135 per month.
There are plenty of childcare options inside Lincoln that vary in price . You can also find beautiful restaurants, local markets, and clothing stores at a minimal cost. Transportation is cheap inside the city, and the monthly travel pass only costs nearly £52.
Average House Price:
The average property price in Lincolnshire county is £212k, and the median price is £183k. Over the last twelve months, prices have declined by an average of £2.9k (-1%).
11. Nottingham
Of all the cities in the UK, Nottingham is the friendliest and one of the cheapest places to live in the UK.
Nottingham is a great place to live for many reasons. There are 20 parks and attractions nearby, the schools are good, the average salary is £25,334, and the housing prices are low compared to other places in the UK. On average, living in Nottingham is 35% cheaper than living in London, 10% more expensive than Liverpool and 9% cheaper than Bristol.
Cost of Living:
Nottingham is known as the "Queen of the Midlands." The city boasts an affordable cost of living—a 1 BHK apartment costs around £610 in the city and £472 outside the city. The basic utility bill comes to about £156 for a month. Fitness clubs, sports, cinemas, and childcare are all reasonably priced options in Nottingham.
You can find cheap student houses in Lenton, and many of them offer stairlift facilities. Getting around Nottingham is also inexpensive; you can buy a monthly travel pass for only £56.
Average House Price:
The average property price in the Nottingham postcode area is £229,000. The median price is £190,000.
12. Liverpool
Located in Lancashire, North of England, Liverpool is a three-hour train journey from London.
Famous as the hometown of The Beatles, Liverpool was a key trade and migration port from the 18th to early 20th centuries. These days, ferries cruise its waterfront past iconic mercantile buildings known as the "Three Graces" – Royal Liver Building, Cunard Building and Port of Liverpool Building – on Pier Head.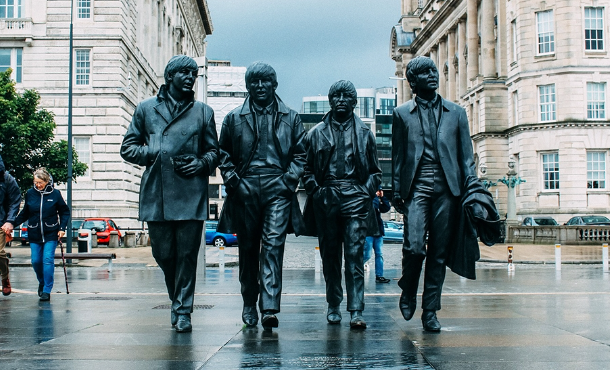 Cost of Living:
Liverpool is a city in the UK that doesn't cost too much to live in. A 1 BHK or bedroom apartment on Great Newton street costs £655 and if you don't want to live right in the center of Liverpool it only costs £490, The average utility bill is around 158£ per month which isn't too bad.
One of the good things about this city is how cheap transportation is, a monthly travel pass only costing 65£. If you're living on a budget there are plenty of options for affordable city hotels fitness centres and grocery stores locally.
Average House Price:
In the past year, Liverpool property prices have experienced significant growth, averaging around 9%. The average price for a property in Liverpool is now £194,000.
13. Manchester
The city of Manchester was a central location during the Revolution, as it became known for producing large quantities of cotton and textiles. In fact, Manchester was the first industrialised city in the world. Throughout history, this city has made notable contributions such as being responsible for the country's first working canal and railway line.
Nowadays, the UK's second most populous city is better known for its nightlife, student population, music and sports. In fact, it was recently voted the third best city in the world to live in. The average income is £26K PA.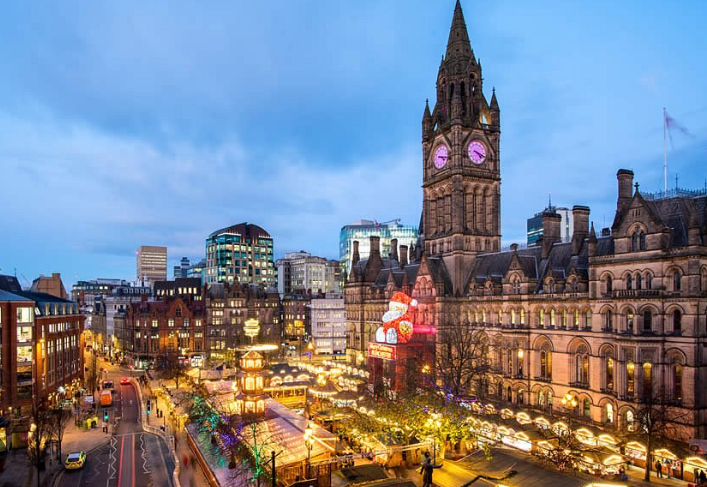 Cost of Living:
The cost of living in Manchester is affordable, especially when compared to other large cities. A 1 bedroom apartment costs around £830 inside the city and £548 outside the city. The primary utility bill for a family of 4 costs about £125 per month.
Transportation is also affordable in Manchester with a monthly travel pass costing only £70 inside the city limits. Schools are widely available as well, with both preschools and primary schools located throughout Manchester City.
Average House Price:
Most sales in Manchester are semi-detached properties, which go for an average price of £304,208. Terraced properties sell at an average of £226,155, while flats usually cost around £210,174.
Sold prices in Manchester this year were comparable to last year's prices and 22 per cent higher than the 2019 peak of £231,863.
14. Birmingham
Birmingham is a historic city in England's West Midlands region. The city was once a major manufacturing center during the Industrial Revolution, and today it retains many landmarks from that era.
Birmingham also has an extensive network of canals running through the city, which have been revitalized in recent years with trendy cafes and bars lining their banks. In the heart of the city you'll find the Birmingham Museum and Art Gallery, which houses an impressive collection of pre-Raphaelite masterpieces.
Birmingham is a terrific location for youngsters to reside and work as the city has the continent's youngest population. Under-25s make up almost 40% of our population. And, there are over 400 schools, 15 universities, and three University colleges all within an hour's drive of Birmingham.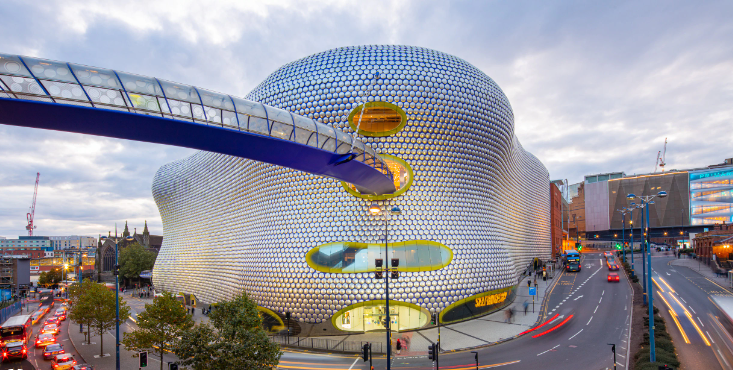 Cost of Living:
Although the cost of living in Birmingham is affordable, with a 1 BHK apartment costing only £766 in the city and £580 outside, some of the hidden costs can be expensive.
The monthly utility bill is approximately £142, while fitness clubs, cinemas, and pre-paid schools are all inside the city. Transportation is cheap compared to other cities though; A monthly travel pass is available for only £65.
Average House Price:
The Birmingham, housing market is somewhat competitive, scoring 51 out of 100. The average Birmingham house price was $267K last month, up 13.6% since last year. B
Birmingham home values have gone up 5.3% over the past year and Zillow predicts they will rise 4.1% within the next year.
15. Norwich
Norwich is a charming and hospitable city with consistently low crime rates. Theatrical performances, three museums, and sporting events keep the culture scene alive while the Sunday Times named it one of the best places to live in 2021. Families are welcomed with open arms as there are 97 primary schools and 23 high schools in Norwich.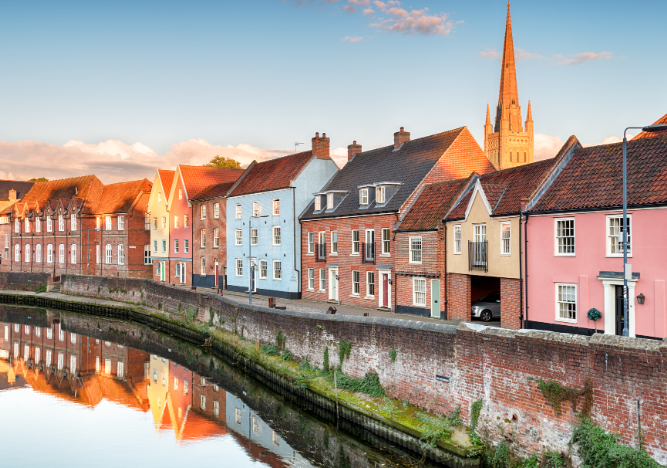 Cost of Living:
In Norwich, UK, 1 BHK apartments near the city center cost £598 on average while those outside the main city run about £500. Monthly utility bills are approximately £140. Local markets and grocery stores keep prices low for residents.
The cost of transportation in Norwich is budget-friendly. A one-way ticket costs only £2.43, and a monthly travel pass can be yours for £87. This city also offers the Reepham Food Festival­­—a unique attraction not to be missed!
Average House Price:
Norwich city's average property price is £273k, while the median price is £240k. In the last 12 months, there was a 4% increase in prices, equating to an extra £9.6k on average.
Things to consider when looking to move to a new towns and cities in the UK
Before you look at any houses, determine your budget first. This will help narrow down the number of possible areas you'll want to consider. You might find that there are several different areas that offer homes within your price range – or maybe there aren't any homes in your initial list of areas within your price point at all.
Just because a property is advertised as being affordable doesn't mean it's in the best location for you and your family. It's important to think about things like schools, public transport and other amenities when making your decision.
If you're looking for a property in a popular area, be prepared to move fast. Properties in these areas can go under offer very quickly, so it's important that you have your finances in order and are ready to put an offer in as soon as you find a property you like.