12 Cheapest Place to Rent in UK in 2023
If you're hunting for a flats to rent in the UK city, you might be wondering where is the cheapest place to live and rent. Rental prices differ greatly depending on the area and it's essential to ensure your pick aligns with your budget.
Without question, renters can reap the benefits of significant savings when they rent in the suburbs. Across England, Scotland, and Northern Ireland combined, residents pay an average rent of £795 per month—with cities located in the North East offering some of the lowest average rent.
Let's take a look at the 12 cheapest places to rent in the UK:
1.Hull, England
Hull, located in East Yorkshire has sparked spirited debates among many people, often being labeled as either one of the best or worst cities to live in. While debates rage on, what's for certain is that Hull offers some of the most budget-friendly rental prices in the country.
With an average monthly rent £550 per month for their homes. Hull is especially attractive to renters who are looking for a city with an active nightlife, plenty of entertainment options, and easy access to the stunning Yorkshire coastline.
2.Burnley , England
Burnley is a great choice for renters on a tight budget looking for a cheapest areas to rent. Burnley properties offers an average room rents of £527 per month and there are plenty of activities and attractions to explore in this small city. Burnley is renowned for its bustling music scene, offering live performances at various venues across the town. Plus, the stunning Pendle Hill is located nearby and makes for a stunning backdrop.
3.Hyndburn
At Hyndburn, you get two vastly different perspectives. While some streets like Woodnook in Accrington remain desolate with boarded up houses and relics of industrial age architecture, the wider region has low unemployment rates and crime figures that make it an ideal place to live.
In fact, now might be a great time to move here—many vacant areas are due for redevelopment over the next few years. The average rent in Hyndburn stands at £531.
4.Pendle
Pendle offers renters a range of benefits, from its picturesque landscapes to its well-known music festivals. Plus, the average rent in Pendle is £531 per month—making it one of the best places for budget-conscious renters.
What's more, Pendle also has some excellent transport links that connect residents to nearby cities like Manchester and Leeds.
5.Stoke-on-Trent
Despite the negative publicity it receives online, Stoke-on-Trent still has a lot to offer. It has a wide range of amenities and attractions, including the Trentham Monkey Forest, the Gladstone Pottery Museum and the British Ceramics Biennial.
Stoke-on-Trent earned the title of 'a real place, for real people, in the real world', and there's no denying it! With rental prices averaging just £435pcm, there are many reasons to make a move here. Not only is this traditional town filled with history and culture that can be explored through its ceramics and festivals but you'll also find an abundance of activities to keep everyone entertained. So what are you waiting for? Come join us in Stoke-on-Trent – your support will help build up our community!
6.North East Lincolnshire 
Despite the affordable rental prices of £425pcm in North East Lincolnshire, it has unfortunately earned an unfavorable reputation among some residents. Compared to the UK average of 99% mobile coverage, this area's 87% reception is undoubtedly an issue that cannot be overlooked.
However, North East Lincolnshire is home to some of the most picturesque seascapes and quaint villages in the country. This area is also known for its low crime rates, making it ideal for those who are looking for a safe and budget-friendly home.
7.Barnsley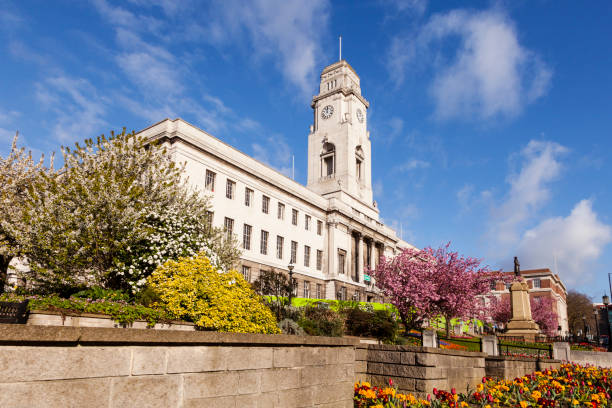 Barnsley is located in the middle of South Yorkshire, and it's known for its historic architecture and idyllic locations. It has long been a popular destination for budget-conscious renters, with the average rents standing at £416pcm.
Despite being an old town, Barnsley offers many modern amenities such as shopping centers, leisure centers, and a variety of cafes and restaurants. Plus, it's also home to the Yorkshire Sculpture Park – one of the most impressive outdoor sculptures parks in the country!
8.Darlington 
Darlington is an old industrial town in the North East of England that has recently undergone a transformation. Its once sleepy streets have been revitalized with trendy bars, restaurants, and shops.
Plus, there's even a refurbished police station – complete with tourist information booths! With the average room rents of £412pcm, it's no wonder that so many people are moving to Darlington
9.County Durham
Before you get too excited about £450 rent per month and £1.30 pints, we must caution you that County Durham may not be the ideal place for everyone. Despite being dubbed as one of UK's most picturesque cathedral cities, many are deterred by its heavy traffic congestion and reports of university students vs local youth skirmishes on Saturday nights.
With all this considered, there are numerous excellent reasons to visit Durham! At night, the stunning views really come alive. There are plenty of country walks and national parks nearby too if you're looking for something more tranquil; while Newcastle is easily accessible as well if you want a bit of hustle and bustle. Plus, with so many students in the city it's kept vibrant despite its age.
10.Bradford
Bradford is a vibrant, multi-cultural city that offers an abundance of activities and amenities for its residents. The average rent here stands at just £409pcm – making it one of the cheapest places to live in the UK.
This area is known for having some of the lowest crime rates in England and its easy access to Manchester, Leeds, and even London make it a great place for young professionals. With its diverse culture, vibrant nightlife, and low rent prices – Bradford is a great choice for anyone looking to make their next home in the UK.
These are just 12 of the cheapest places to rent in the UK – with each offering something unique and interesting for prospective tenants to explore. So, if you're looking for great value accommodation then be sure to check out these spots!
11.Derby
Derby is an up-and-coming city located in the East Midlands, with a lot to offer for its residents. Not only does it boast some of the best restaurants and bars in the region, but also plenty of shops and amenities.
Derby has seen strong rental growth over the past few years – particularly due to its close proximity to Birmingham and Nottingham. The average rent here stands at £387pcm, making it one of the cheapest places in the UK to rent.
12.Liverpool
If you're searching for a vibrant city life on a budget, Liverpool should be your first choice! Located in the north west England, this bustling metropolis is the fifth largest in all of the United Kingdom. With an abundance to explore and experience at an affordable cost, there's no better place for lively yet thrifty urban getaways than Liverpool.
According to recent reports, the average costs of renting a property in this city has fallen significantly over the past year, making it one of the cheapest area to rent in the UK. Letting agents can also be found throughout Liverpool offering competitive rental prices, allowing tenants to make even more savings for their stay.
Sign up to our mailing list now to get the latest rental information and offers! With so many affordable places to live for families in the UK, you're sure to find something perfect for your next home.