Best Places to stay in London
London is a bustling city, filled with history, culture, and an endless array of activities to keep any traveler entertained. From iconic landmarks such as Buckingham Palace and the Tower of London to world-class museums and galleries, there's something for everyone in this vibrant metropolis.
However, with so many options available, choosing the right place to stay can be a daunting task. In this blog post, we will explore the best areas to stay in London, providing you with all the information you need to make an informed decision about where to stay during your visit to this incredible city.
So, whether you're seeking luxury accommodations, a vibrant nightlife scene, or a peaceful retreat, we've got you covered with our top picks for the best places to stay in London.
Visitors can also enjoy the many street performers, ranging from musicians to magicians, who entertain crowds in the Covent Garden Piazza. And for those seeking retail therapy, Covent Garden is home to a vast array of shops, ranging from high-end designer boutiques to charming independent retailers.
When it comes to food and drink, Covent Garden has something for everyone. From Michelin-starred restaurants to trendy cafes and bars, visitors can indulge in a range of cuisines and cocktails. The area is also known for its historic pubs, which offer a glimpse into London's rich pub culture.
Overall, Covent Garden's vibrant atmosphere, central location, and diverse offerings make it an ideal location to stay for first-time visitors to London. With its abundance of attractions, shops, and dining options, there is never a dull moment in this bustling district.
Our number one pick of the best place to stay in London
Covent Garden
If you're planning a trip to London, there are many great neighborhoods to choose from, but one of the best places to stay is Covent Garden. Located in central London, Covent Garden is a vibrant and bustling area that offers a variety of activities and amenities for visitors to enjoy.
One of the main reasons that Covent Garden is such a great place to stay is its central location. The neighborhood is located in the heart of London and is within walking distance of many of the city's most famous landmarks and attractions. Buckingham Palace, Trafalgar Square, and the British Museum are just a short walk away, while other popular destinations such as the Tower of London and the London Eye are easily accessible by public transportation.
In addition to its central location, Covent Garden also has a lot to offer in terms of entertainment and nightlife. The area is known for its street performers, who can be found entertaining crowds in the bustling Covent Garden Market. The neighborhood is also home to many trendy bars and restaurants, as well as several theaters and performance venues.
One of the best things about staying in Covent Garden is the wide range of accommodation options available. From budget-friendly hostels to luxury hotels, there is something for every budget and taste. If you're looking for a unique and stylish place to stay, you might consider booking a room at one of the area's many boutique hotels and famous shopping street. These small and charming properties offer personalized service and a more intimate experience than larger chain hotels.
Another great thing about Covent Garden is its proximity to Oxford Street, one of London's most famous shopping streets. Oxford Street is a bustling thoroughfare home to a wide range of shops, from high-end luxury brands to budget-friendly chain stores. Whether you're looking for designer fashion or souvenirs to bring home, you'll find plenty of options at Covent Garden.
Finally, Covent Garden is a great choice for those who want to explore London on foot. Many of the city's most famous landmarks and neighborhoods are within easy walking distance of the neighborhood, including Soho, the West End, and St. James's Park. Plus, the area is well-connected by public transportation, making it easy to get around the city if you need to.
In conclusion, Covent Garden is one of the best places to stay in London for visitors who want to be in the heart of the action. With its central location, vibrant atmosphere, and wide range of accommodation options, it's the perfect base for exploring all that the city has to offer. So if you're planning a trip to London, be sure to consider Covent Garden as your home base.
Best Places to Stay in London
The Best Area to Stay in London for First Time Visitors – The West End

The West End is a bustling and exciting area in London, and for many visitors, it's the quintessential London experience. Although it can be busy, it's undoubtedly the best place to stay in London if you want to be in the thick of things. The West End encompasses Covent Garden, Piccadilly, and Leicester Square, and is an ideal location for sightseeing and shopping. If you're looking for where to stay in London for theatre, the West End is definitely the place to be.
Whether it's day or night, there's always something to do in the West End. From catching a show at one of the many theatres to listening to live music, you'll never be bored. For first time visitors to London, the West End is a great choice as it offers the complete London experience.
Although the West End can be overwhelming for some, if you're prepared for the exuberance and energy, you won't be disappointed. So, if you're looking for the best place to stay in London for theatre or a lively, exciting atmosphere, the West End is the perfect choice.
Best places to go in the West End
– Catch a show at one of the many acclaimed West End Theatres.
– Explore the British Museum, a must-visit attraction that showcases fascinating artifacts from around the world spanning different eras.
– Shop till you drop on Oxford Street, the UK's renowned shopping destination, where the festive season is made even brighter with its dazzling lights.
– Immerse yourself in the vibrant energy of Piccadilly Circus, known for its iconic neon signs and bustling atmosphere.
Ideal for Tourists – Westminster

If you're trying to figure out the best London neighborhood for tourists to stay in, I highly recommend Westminster. Located along the River Thames, Westminster is a must-visit for many tourists thanks to its famous landmarks including The Houses of Parliament, Westminster Abbey, Trafalgar Square, and the National Galleries.
With its central location, staying in Westminster offers easy access to other parts of London, making it the ideal base for sightseeing. If you're looking for the best neighborhood to stay in London for sightseeing, Westminster should be at the top of your list.
Best places to go in Westminster
– Westminster Abbey – Witness royal weddings, coronations, and burials at one of London's most iconic religious sites.
– The Houses of Parliament and Big Ben – Catch a glimpse of the ornate seat of British parliament on the banks of the Thames, and don't forget to take a photo with Big Ben.
– Trafalgar Square – Despite the absence of pigeons, this famous square still offers great opportunities for people-watching and admiring Nelson's Column.
– The National Galleries – Art lovers won't want to miss the impressive collections at the National Gallery and National Portrait Gallery, both of which offer free entry (except for special exhibitions)..
Tourist Attractions Spots – London Bridge and the South Bank
London Bridge is not just a popular nursery rhyme, but also a great location to explore London due to its central location and superb transport links. Even though it may not be the first option that comes to mind when considering where to stay in Central London, it is a fantastic choice.
Best places to go in London Bridge and the South Bank Highlights
– Indulge in a delightful afternoon tea experience at Ting located in the Shangri La at the Shard.
– Feast on delectable treats while enjoying the stunning views. Explore the famous Borough
– Market and indulge in gourmet treats before dining at one of the excellent restaurants nearby such as Wright Bros. and Brindisa.
– Take in panoramic views of the city centre from the top of The Shard by visiting its viewing platform.
– Experience Central London from a unique perspective while riding the giant observation wheel, the London Eye.
– Catch groundbreaking plays and old classics at the National Theatre, which consistently offers the best shows in town. While tickets can be difficult to come by, they can often be purchased on the day if you're willing to queue or call ahead (or even online). Enjoy dinner and cocktails with a view at Skylon located in the Oxo Tower.
– Don't miss Central London's largest modern art gallery, the Tate Modern, towering over the South Bank. It's a must-visit destination for all contemporary art enthusiasts.
Best for Nightlife Scene – Soho

Soho is widely regarded as the best neighborhood for nightlife in London. Its narrow streets are lined with a diverse range of bars, pubs, clubs, and restaurants, making it a popular destination for locals and tourists alike.
Whether you're in the mood for a sophisticated cocktail at one of the trendy rooftop bars or a night of dancing at a popular nightclub, Soho has something to offer everyone. The area is particularly renowned for its gay bars and clubs, making it a hub for LGBTQ+ nightlife in the city.
Soho is also home to several iconic music venues, including the famous Ronnie Scott's Jazz Club, which has played host to some of the world's most famous jazz musicians.
Overall, if you're looking for a vibrant and exciting nightlife scene in London, Soho is definitely the place to be.

Here are some of the best places to go in Soho
Ronnie Scott's Jazz Club – Established in 1959, this club is a must-visit for jazz lovers. It has played host to some of the biggest names in the genre, and continues to attract world-class musicians to this day.
Berwick Street Market – This street market has been a Soho institution for over 300 years. It's a great place to pick up fresh produce, artisanal foods, and vintage clothes.
The Photographers' Gallery – This is the largest public gallery in London dedicated solely to photography. It features exhibitions of both historical and contemporary photography, and also has a bookshop and cafe.
The Soho Theatre – This venue showcases a diverse range of comedy, theatre, and cabaret acts, and is known for supporting emerging talent. It also has a bar and restaurant.
Bar Termini – This chic cocktail bar is a favourite among locals and visitors alike. It's known for its classic cocktails and Italian-inspired snacks.
The French House – This iconic pub has been a favourite haunt of artists, writers, and musicians for decades. It's famous for its bohemian atmosphere, eclectic decor, and great selection of drinks.
Milk & Honey – This speakeasy-style bar is hidden away behind an unmarked door, and is known for its inventive cocktails and intimate atmosphere.
Princi – This popular Italian bakery and cafe is a great spot for a quick lunch or coffee break. It's known for its delicious pizzas, pastries, and coffee.
Sister Ray – This legendary record store is a great place to browse for vinyl and CDs. It's been in business since the 1980s, and has a vast selection of new and used music across all genres.
Soho Square – This leafy public square is a great place to relax and people-watch. It's surrounded by historic buildings and has plenty of benches to sit on.
Best Place to Stay in London With Family – Kensington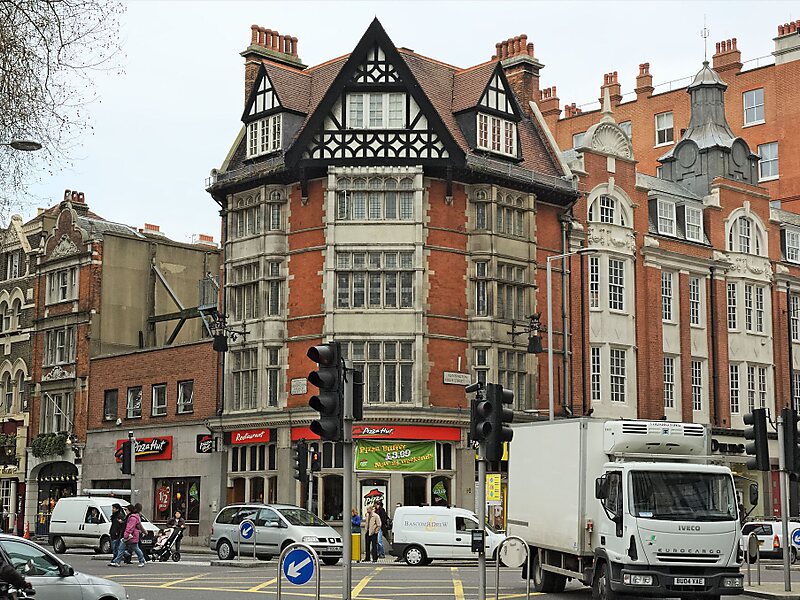 Kensington is an excellent place to stay in London with your family. This affluent and picturesque neighbourhood in West London is known for its museums, parks, and shopping. With plenty of green spaces and family-friendly activities, it's a great choice for those travelling with children.
Some of the top attractions in Kensington include the Natural History Museum, the Science Museum, and the Victoria and Albert Museum, all of which offer interactive exhibits and activities for kids. Kensington Palace and Gardens is also a must-visit for families, with its beautiful gardens, playgrounds, and even a Peter Pan statue.
In addition to the cultural and historical attractions, Kensington has plenty of great shopping and dining options, including high-end department stores like Harrods and Harvey Nichols. With easy access to the rest of London via the Tube, Kensington is a convenient and enjoyable base for families exploring the city.
Family friendly places to go in Kensington
Natural History Museum – This museum is a great place for kids to learn about nature and see amazing exhibits like dinosaur skeletons and a giant blue whale. Natural History Museum is one of the best place to go in Kensington with your family.
Science Museum – The Science Museum is another fun and interactive museum for kids. With plenty of hands-on exhibits and wacky experiments, it's a great way for children to learn about science and technology.
Victoria and Albert Museum – The V&A is the world's largest museum of decorative arts and design, and is home to an impressive collection of over 4.5 million objects. It's a great place for kids to learn about art, design, and history.
Holland Park – This beautiful park in the heart of Kensington has plenty of green space, a playground, and even some peacocks wandering around!
Kensington Palace – Explore the home of the Duke and Duchess of Cambridge and learn about the history of the royal family.
Diana Memorial Playground – This playground is inspired by the story of Peter Pan and is a magical place for kids to play and explore.
Leighton House Museum – This museum is home to the stunning artwork of Victorian artist Frederic Leighton, and is a great way for kids to learn about art and history.
The Roof Gardens – Located on top of a building in Kensington, these gardens are a hidden gem and a great place for families to relax and enjoy some green space.
Shoreditch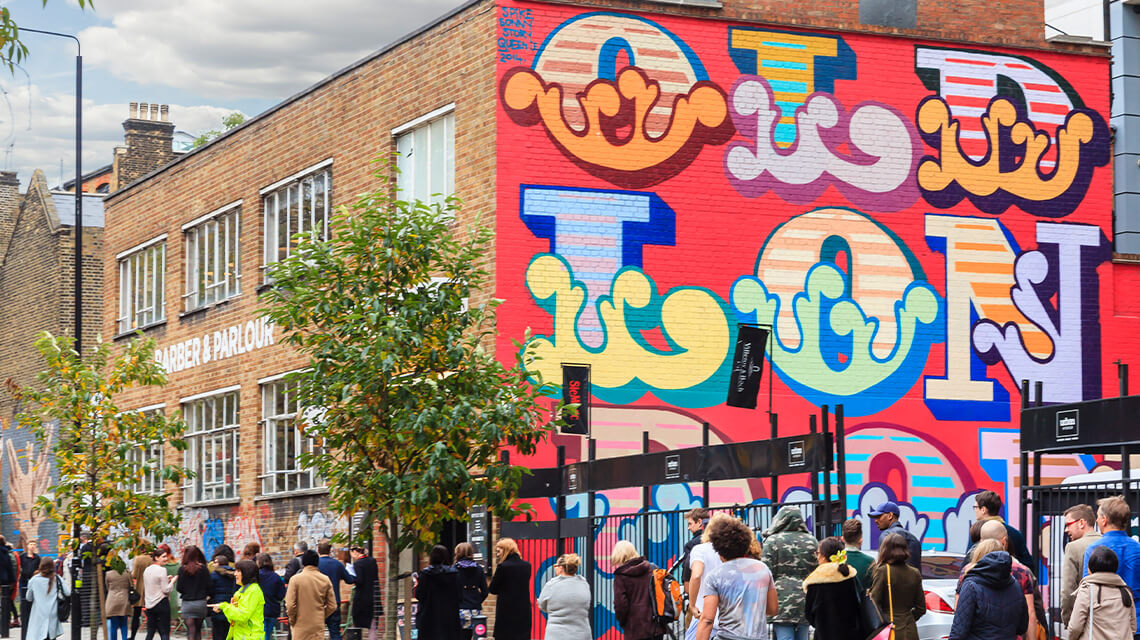 Shoreditch is a trendy neighborhood in the East End of London that has become known for its street art, independent shops, and vibrant nightlife. It's a great place to explore for those interested in contemporary culture and cutting-edge fashion. In recent years, Shoreditch has also become a hub for tech startups, and there are many co-working spaces and innovation hubs in the area.
Popular spots in Shoreditch include Boxpark, a pop-up shopping and dining destination made entirely of shipping containers, and Brick Lane, a vibrant street known for its curry houses, vintage clothing shops, and street art.


Brick Lane Market: A bustling market filled with vintage clothing, street food, and unique finds.
Street Art: Shoreditch is home to some of the best street art in London, with colorful and creative murals adorning many of the buildings.
Boxpark: A unique shopping and dining destination made from repurposed shipping containers.
Nightlife: Shoreditch is known for its vibrant nightlife, with plenty of bars, clubs, and live music venues to choose from.
Old Spitalfields Market: A historic market that has been around since the 17th century, offering a wide range of food, fashion, and antiques.
Columbia Road Flower Market: A lively market selling fresh flowers and plants every Sunday morning.
Shoreditch High Street: A trendy shopping street with a variety of independent boutiques and designer stores.
The Geffrye Museum: A museum dedicated to the history of home and interior design, showcasing how homes have changed over the past 400 years.
The Curtain Theatre: The remains of an Elizabethan playhouse where some of Shakespeare's plays were first performed.
Mayfair, Belgravia, and Victoria
Mayfair, Belgravia, and Victoria are three adjacent neighborhoods in the heart of Central London, each with its own distinct character and charm.
Mayfair is known for its high-end shopping, exclusive restaurants, and luxury hotels. It's also home to many of London's most prestigious art galleries and auction houses, making it a popular destination for art lovers. Some of Mayfair's highlights include Bond Street, Savile Row, the Royal Academy of Arts, and Claridge's Hotel.
Belgravia is a more residential neighborhood, with elegant townhouses and beautiful garden squares. It's also home to some of London's finest restaurants and boutique shops, as well as the picturesque Belgrave Square and Eaton Square. Belgravia is a peaceful and refined neighborhood, perfect for those who want to escape the hustle and bustle of the city.
Victoria is a busy transport hub, with Victoria Station serving as a major railway and bus terminal. The neighborhood is also home to many popular attractions, including Buckingham Palace, Westminster Cathedral, and the Apollo Victoria Theatre. Victoria is a great place to stay for those who want to be close to the action, with easy access to all parts of London.
Best places to stay in Mayfair, Belgravia, and Victoria

Mayfair, Belgravia, and Victoria are all upscale neighborhoods in central London, and there are many great options for accommodation in these areas. Here are some of the best places to stay in each neighborhood:
Mayfair: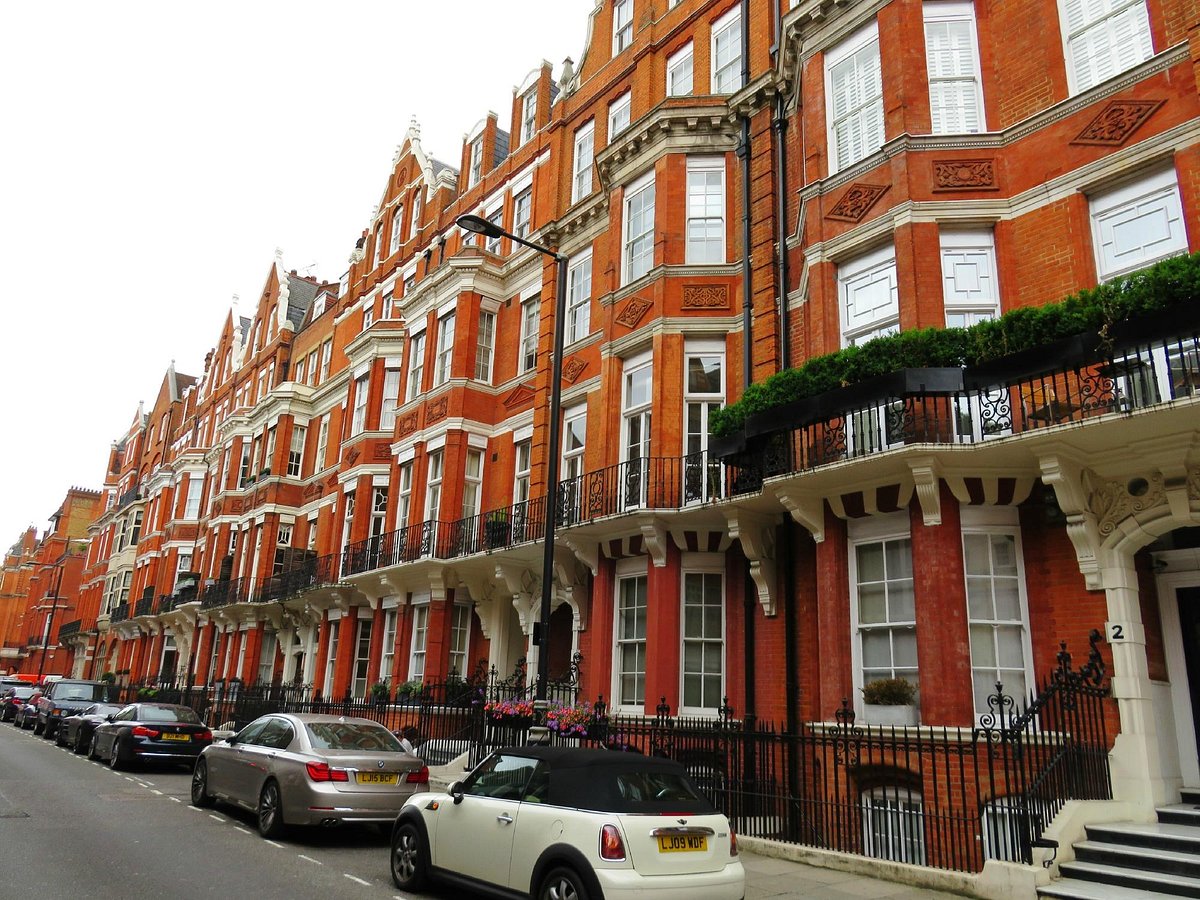 The Ritz London: This iconic hotel is located on Piccadilly and is famous for its luxurious rooms and impeccable service. It's a great choice for those who want to experience old-world glamour and elegance.
Claridge's: Another classic Mayfair hotel, Claridge's has been a favorite of celebrities and royalty for over a century. The Art Deco-inspired rooms are spacious and stylish, and the hotel has several acclaimed restaurants and bars.
The Connaught: This 5-star hotel is known for its chic, contemporary design and excellent service. The rooms are elegantly decorated with a mix of classic and modern elements, and the hotel has a Michelin-starred restaurant and a stylish bar.
Belgravia:
The Goring: This family-owned hotel has been a Belgravia institution since it opened in 1910. The rooms are spacious and elegant, and the hotel has a beautiful garden and an excellent restaurant.
The Berkeley: This modern, design-led hotel is located on Knightsbridge and has a rooftop pool and several Michelin-starred restaurants. The rooms are sleek and stylish, and many have views of Hyde Park.
The Hari: This boutique hotel is located in a quiet residential street in Belgravia and has a cool, contemporary design. The rooms are spacious and stylish, and the hotel has a great restaurant and bar.
Victoria:
The Goring: This hotel is located on the border of Victoria and Belgravia, so it's a great option for those who want to explore both neighborhoods. See above for details.
The Nadler Victoria: This boutique hotel is located just a few minutes' walk from Victoria Station and has stylish, compact rooms with high-tech amenities. It's a great choice for those who want to be close to the transport hub and all the attractions of central London.
Eccleston Square Hotel: This design-led hotel is located in a beautiful Georgian square in Victoria and has high-tech rooms with adjustable beds and a digital fireplace. The hotel also has a great bar and restaurant.
Marylebone

Despite being located just a stone's throw away from the bustling West End, Marylebone is a charming and understated London neighborhoods. It offers visitors a delightful combination of affordable prices and plenty of attractions to explore, making it one of the best areas to stay in London. From eccentric museums and trendy eateries to traditional taverns, Marylebone has been a hub of sophisticated social life in London for centuries.
If you're looking for a more budget-friendly place to stay in London, Paddington is just a short distance away and boasts some fantastic boutique hotels at lower prices. However, if you're seeking a distinctive and luxurious experience in London, Marylebone is the ideal location to stay. With its chic and offbeat offerings, it promises a one-of-a-kind stay in the capital.
Best places to stay to go in Marylebone
Daunt Books – Explore the extensive collection at Daunt Books, a paradise for book enthusiasts.
The Wallace Collection – Discover the fascinating assortment of 18th-century artifacts and antiques, making it one of London's top museums.
Pachamama – Experience the Peruvian cuisine trend in London at its finest by dining at Pachamama, a standout restaurant in the area.
Regent's Park – One of London's Royal Parks, Regent's Park is a beautiful green space that's perfect for a stroll, picnic or simply enjoying a sunny day. It's also home to the London Zoo, which has a great collection of animals and is perfect for a family day out.
The Sherlock Holmes Museum – Fans of the famous detective will love a visit to the Sherlock Holmes Museum, located at 221B Baker Street. The museum is set up like the home of Sherlock Holmes and Dr. Watson and is filled with authentic Victorian furnishings and memorabilia.
Chiltern Firehouse – This stylish restaurant and bar is a celebrity hotspot and is known for its delicious food and chic decor. The Chiltern Firehouse is a great place to grab a drink or a bite to eat and soak up the trendy atmosphere.
Marylebone Farmers' Market – Every Sunday, the Marylebone Farmers' Market takes over the area around Marylebone High Street. It's the perfect place to pick up some fresh produce, sample some delicious food, and browse the stalls selling crafts, clothing, and other handmade items.
The City – Best for Business Travellers
The City of London, commonly referred to as simply "the City," is the historic and financial center of London. It's the best area to stay in for business travelers who want to be close to their work and all the action. It's home to many of the world's largest banks and financial institutions, making it a hub of international finance.
The City is also rich in history and culture. It has many ancient landmarks, including St. Paul's Cathedral, the Tower of London, and the Guildhall. You can also take a walk along the Thames and enjoy the views of iconic landmarks such as the Shard and Tower Bridge.
As for accommodations, the City has plenty of best hotels catering to business travelers. The Four Seasons Hotel London at Ten Trinity Square and the Shangri-La Hotel at the Shard are both excellent options. There are also many restaurants and bars in the area, making it a convenient place to entertain clients or colleagues.
The City Highlights
Duck & Waffle – This restaurant serves up inventive and delicious dishes around the clock, making it a go-to spot for any time of day.
Spitalfields Market – The revamped market building is home to a variety of trendy eateries, bars, and vintage stalls that change depending on the day.
Leadenhall Market – The stunning wrought-iron market is a must-visit destination for foodies, shoppers, and bar-hoppers alike.
St Dunstan in the East – Explore the ruins of this ancient church, nestled in the heart of the city. Admire the ivy-covered walls and take a peaceful break from the hustle and bustle of London life.
Shepherd's Bush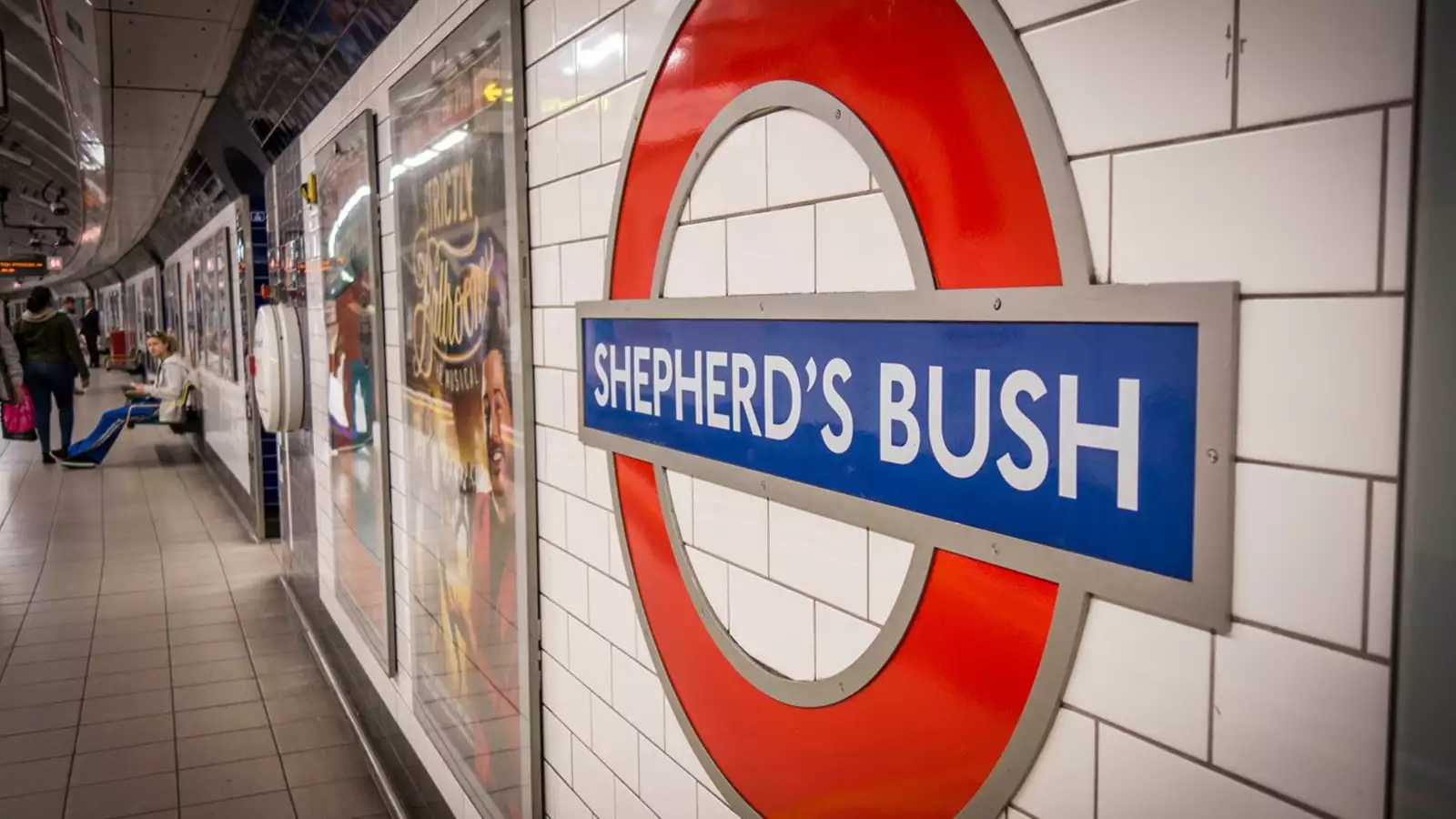 For travelers looking for affordable accommodation and plenty of entertainment options, Shepherd's Bush is an excellent choice. It's situated on the outskirts of central London, which means lower prices without compromising on convenience.
With a diverse mix of cultures and cuisines, you won't run out of places to eat and drink. Plus, its bustling shopping scene and iconic music venue make it a great place to stay in London for those seeking a lively atmosphere.
How do you get around in London?

The simplest way to get around in London is the Underground, also known as "The Tube". London's subway system is old but very reliable, with stations at every landmark, tourist attraction, and area that you might find yourself in. You can also take a taxi if you prefer. London's black cabs are iconic and their drivers know London's streets better than anyone.
There are buses, trams, and overground trains that can take you to different parts of the city. You may also consider walking or cycling, especially if you want to explore specific areas in more detail.
Where should I stay for if it's my first time visiting London?
If it's your first time in visiting London and you've got the money, you'll want to be as central as possible, and surrounded by all the best sights and things to do.
For that, you'll want to stay in London's West End or Westminster. In London's West End, you are walking distance to best theatres, shopping, boutique hotel and shows at your fingertips, and Westminster features most of the must-see sights of London. This is absolutely the best area to stay in London for tourists.
What is the best neighborhood to stay in London?
When looking for the best neighborhood if you visit London, it ultimately depends on one's preferences. However, many locals suggest Shoreditch as the ideal neighborhood to experience the real London. Known as the hipster capital of London, Shoreditch offers a unique and authentic experience with its trendy bars and cafes, cool street art, and bustling food markets.
While it may not have the glamour of tourist attractions in Westminster, Shoreditch offers a taste of the vibrant and diverse city that is London.